Biography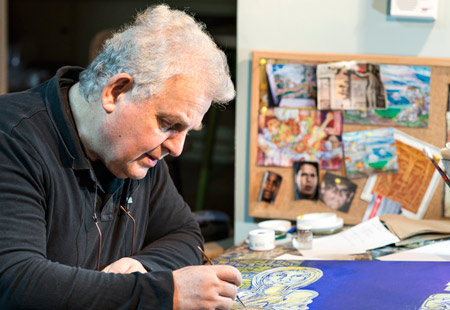 Theofanis Giossis studied at the Athens Technological Institute (Doxiadis School).

He lives and works in Athens and since 1982 is a member of the Greek Chamber of Fine Arts.

Alongside painting he worked many years as an illustrator and cartoonist for several magazines of Athens Press.

The themes of the paintings are landscapes, dreamy issues and still lifes. The female figure, the dove and the sailboat are characteristic symbols of his art.The performance issues works combines cubism with surreal mood and geometric armonia.The works are densely structured with strong descriptive touch, in canvas with acrylic paints without additives.

He has presented his work in solo and group exhibitions and the Greek Ministry of Culture has purchased some of his paintings. Also you can meet his work in the Municipal Gallery of Athens.

Recent solo exhibitions were held in December 2002 at the Cultural Centre of New Erithrea municipality and in November 2006 at the Cultural Center of Athens.